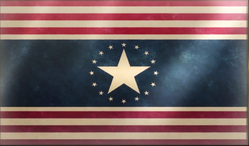 Unified States of Arkansas (合州国) is a big nation with vast territorial with 50 states. They have several colony and one of the most important strategic places are not-Philippines and not-Hawaii. It is also the place where Tanya von Degurechaff take shelter after the war ended.
International Relations
Edit
ldoa Kingdom (イルドア王国?)
Rus' Union / Russy Federation (anime) (ルーシー連邦?)
Military Strength
Edit
USA has the second class and advanced army in the alternate world. Majority of their manpower were all focus in land, air and sea. They are second powerful country yet not too powerful enough to withstand The Empire.
They have large amount long-ranged and heavy barreled battleships resides mostly in not-Hawaii and not-Philippines.
Airforce
Edit
They have minimum air power and resistance but advanced long-ranged fighter planes. All of their pilots are elite and highly-trained personnel. Therefore, they put a lot of effort to maintain the air superiority in the sky.
Technology
Edit
Research and Development
Edit
No information
Land/Air
Edit
No information
No information
Ad blocker interference detected!
Wikia is a free-to-use site that makes money from advertising. We have a modified experience for viewers using ad blockers

Wikia is not accessible if you've made further modifications. Remove the custom ad blocker rule(s) and the page will load as expected.